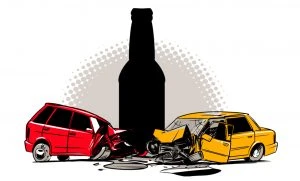 A DUI charge involving a car accident is very difficult to face. It not only carries more serious legal penalties, it can also be traumatic. However, it's possible to defend yourself against a California DUI even if someone was hurt—and even if someone died. Your DUI charge does not have to ruin your life.
To defend against your DUI, you need to understand exactly how the accident changes the proceedings, and what penalties you face.
How an Accident Changes a Los Angeles DUI Case
The courts in Los Angeles take a strict view of DUIs that involve accidents. In all accident DUIs, the prosecutor will seek heavier penalties. But exactly what the prosecutor can go after depends on the severity of the accident. To make things simple, we'll divide accidents into three categories: those without injuries, those with minor injuries, and those with serious injuries. We'll deal separately with DUI's involving deaths separately.
Accidents with No Injuries
A fender bender is a classic example of an accident where no one is injured. Two cars collided, and some damage was done, but everyone can walk away in good health.
Under these circumstances, you probably won't be charged with any crime other than DUI (and any traffic laws you broke). You face the same minimum and maximum penalties as if there was no accident at all. However, the prosecutor will seek a sentence toward the high end of those penalties.
As an example, a first time DUI carries a jail sentence lasting anywhere from two days to six months. If there's no accident, you might be given the minimum sentence of two days. But if there was an accident, the prosecutor may seek three, four, or even the full six months of jail time—even though no one was hurt.
Accident with Minor Injuries
Your case changes if anyone involved in the accident reports an injury—including your own passengers. With minor injuries the charge becomes Misdemeanor DUI Causing Injury, which carries a sentence enhancement. In addition to the normal DUI penalties, it carries a minimum five day jail sentence and a minimum one year license suspension. You will also have to pay fines and restitution to the injured parties. Note that if you have previous DUI charges, and especially previous DUI Causing Injury charges, you may be given a more serious charge with even steeper penalties.
What counts as a "minor" injury is subjective. Things like whiplash, severe bruises, or a small cut from windshield glass are minor injuries.
Accident with Serious Injury
Serious accidents include things like a broken bone, a concussion, or a more long-term injury, including anything that requires surgery. When this kind of injury is present, you will usually be charged with Felony DUI Causing Injury. A felony DUI is much more serious than a misdemeanor.
The penalties include over $1,000 in fines minimum (usually more) and one to five years in state prison, plus additional years for each person injured or if anyone suffers "great bodily injury."
If this is your third DUI with injury conviction, it will automatically be a felony regardless of how minor or serious the injuries were.
If Someone is Killed
If someone dies in the accident, you will most likely be charged with Vehicular Manslaughter while Intoxicated. There are several versions of this charge, all of them serious. Even the most lenient version carries up to a year in jail. The felony version carries up to six years in state prison.
How to Defend Your Case
The penalties above may be serious, but they only apply if you are found guilty. With a DUI accident case, the prosecution has to prove two things:
That you were under the influence (or had a blood alcohol level of 0.08% or more), and
That you caused the accident and the injury
If they cannot prove both of these things, you cannot be convicted of DUI Causing Injury.
Remember, even if you were driving under the influence, it does not mean you are the one who caused the accident. For example, if you were stopped at a red light and a car rear ended you, they are the ones at fault. They would have hit you whether you were intoxicated or not.
It can be hard for prosecutors to prove you caused an accident. What seems like a case you can't win can often change dramatically if a DUI lawyer started to investigate on your behalf. Frequently, a case that starts out as a DUI Causing Injury charge is reduced to a regular DUI, or even Reckless Driving, once a DUI lawyer intervenes.
When you hire a DUI attorney, they will look at all factors in the accident—road conditions, weather, the way the vehicles impacted each other—and see if there's really any evidence that it was your fault.
DUI's involving accidents are serious. Don't face the prosecutor without legal help. Let us put you in touch with a skilled Los Angeles DUI attorney and get you a FREE consultation. Simply fill out the form to the right and get your free consultation today.