Get a DUI Attorney Near Me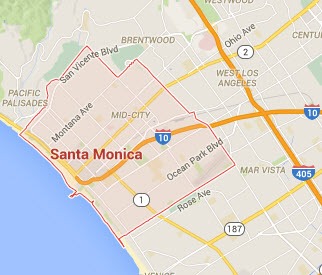 Facing a DUI charge in Santa Monica isn't easy. It's a serious offense that carries potential jail time, significant fines and the loss of your driver's license. Being charged with DUI haunts some people for years—but it doesn't have to. Just because you made one mistake doesn't mean you should pay for it for the rest of your life. There are steps you can take to improve your situation and fight against your DUI.
The best way to do that is to have an experienced Santa Monica DUI lawyer working with you. A good lawyer has worked on countless cases just like yours, and can help protect you from the worst DUI penalties. With their help you may be able to avoid jail time and even keep your license. DUI lawyers in Los Angeles can save their clients thousands of dollars in fines, and might even be able to help you avoid DUI conviction entirely.
The Cost of a DUI in Santa Monica
DUIs are treated seriously in over 200 DUI arrests, and the authorities have taken an increasingly tough stance in prosecuting them. This is not just out of concern for public safety, but it also because DUI's represent a source of revenue for local government. The fines and fees for DUI charges have risen continuously, and a DUI can become very expensive very quickly.
The California Vehicle Code specifies a range of penalties for those unlucky enough to be charged with DUI. These penalties get worse with each successive DUI, but the penalties for a first offense are as follows:
Up to 6 months incarceration. At a minimum, if convicted you will spend 48 hours in the county jail.
Fines and fees of at least $1,800. This includes the $390 minimum fine along with the various court fees. The total can reach far more than this.
You'll lose your license for at least several months, and possibly over a year.
If you have any previous DUI convictions these penalties can rise sharply—you could face over a year in jail or fines up to $18,000. You could end up in jail for a year or state prison for 16 months. You'll also be ordered to by the court to attend some kind of mandatory educational program costing between $500 and $1,800. This program can go on for years.
What Happens after the Arrest?
You might have been arrested by the local police department, the LA County Sheriff's office or the West Los Angeles branch of the California State Police. You'll then likely spend the night at the local jail, where you'll be processed and released the next day. This is only the beginning—the upcoming legal timeline is complex and involves several stages:
The DMV hearing. Your license will be confiscated upon arrest and you'll be provided with a temporary one. This temporary license is valid for only 30 days, after which your license is effectively suspended. This is known as administrative or "per se" license suspension and happens even though you have had no trial yet. The only way to stop this process is to request a hearing with the DMV within 10 days of your arrest—a very tight timelines that many defendants miss. The best approach is to ask your DUI lawyer to handle the hearing for you. They will not only work to save your license but will also use this as a first opportunity to feel out the testimony of the arresting officer.
The Arraignment. This is a preliminary court hearing that takes place a few weeks after the trial. This is where you'll enter your plea, and find out an exact date for your trial. Often, you will be pressured to plead guilty at this stage, which is why it's important to talk to a DUI lawyer before the arraignment if possible. Your DUI lawyer will be able to advise you on the arraignment, and will start pressuring the prosecution to offer you a deal.
The Wait. There can be a gap of several months between the arraignment and the actual trial. This can be an anxious time, but you'll feel more assured knowing that you have a DUI lawyer in your corner. They'll use this time to put together the most robust defense possible. In some cases they will put enough pressure on the prosecution that the case against you will be dropped.
The Trial. Many DUI cases never go to trial, but if you do go to trial you have a chance to defend yourself. You'll be tried by jury in the Santa Monica Courthouse, and your goal at this point is full acquittal—walking away innocent of all charges. This can happen in even some of the most difficult cases. Your lawyer will put together a defense that aims to put doubt in the minds of the jury. They will also be present during jury selection to ensure no potential bias against your case. It's not uncommon for DUI lawyers to win cases outright.
Do You Need a DUI Lawyer?
A DUI case can sometimes look hopeless. But any experienced lawyer knows that no case is unwinnable. All evidence is open to potential challenge, and your lawyer knows exactly how to weaken the case against you.
There are several different strategies your lawyer might use:
Examine the arrest. Police are bound by strict protocols and procedures. They sometimes slip up, violating the rights of the people they arrest. If your lawyer can demonstrate that this is the case the charges against you may fall apart.
Challenging the evidence against you. Blood and breathalyzer tests can be subject to error. Machines are not perfect and lab technicians make mistakes. Your lawyer can subpoena data from a breath test machine, or testing history from a blood test lab, and look for irregularities. The evidence could be thrown out.
Sleuthing. Your lawyer will pour over the witness reports and testimonies of the arresting officers. Any inconsistencies or factual errors will be obvious to an experienced eye, and might be used to pull apart the prosecution's case.
Negotiation. Prosecutors are busy people. If your lawyer can make your defense look strong enough, they might be open to cutting a favorable deal.
These tactics used together can really turn your case around. You might win your case outright, or the charges against you might be downgraded to something less severe. Your case could join the countless DUIs that end up in acquittal each year.
How to Find the Best DUI Lawyer in Santa Monica
Many lawyers say they take DUI cases, but not just any lawyer will do. You want someone with the experience and knowledge to give you the best fighting chance in your DUI case. Here's what to keep in mind when choosing a lawyer:
Choose a firm that deals exclusively with DUI. These firms have the most experience with cases like yours and therefore higher skill levels. They will know all the potential strategies to use on your behalf.
Ask for proof that they've taken on cases like yours in the past that have ended in victory for their clients.
Check for special credentials, like certifications as a DUI specialist or specific training on breathalyzers or other relevant equipment.
Make sure they offer a FREE CONSULTATION—you should be able to meet with a lawyer under no obligation.
You Are Not Guilty Unless Proven Guilty
From the moment of your DUI arrest, deadlines are already looming to challenge your license suspension, subpoena evidence, and pressure the prosecution to drop your case. The best thing you can do is hire an experienced Santa Monica DUI attorney and fight every step of the way. Doing so could save you money on fines, reduce the penalties you face, or end with a Not Guilty verdict.
Our service exists to connect you to the best DUI lawyers in Santa Monica. We charge nothing for this. All we need are a few details and we'll get to work finding the right DUI lawyer for you. Your lawyer will offer a FREE consultation and let you choose how to proceed.
Don't wait until the day of your trial. Fill out the form to your right or call us at (310) 896-2724 and get your free consultation today.