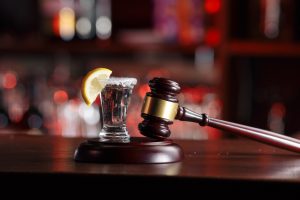 In California, you can face two kinds of license suspension for drunk driving, one from the DMV and one from the courts. The DMV's license suspension, known as admin per se or administrative suspension, is the first one you face, even before your trial.
It's equally important to understand the suspension you'll serve if convicted. Suspensions handed down by the court are often much longer than administrative suspensions and can seriously affect your life and career.
License Suspensions Under the DMV
When the police first arrest you, they send your information to the DMV, which will then put your license under suspension. After that, you have roughly ten days to attend an administrative hearing regarding your license. At this hearing, you can show the DMV your innocence and explain your side of things.
The DMV will typically suspend your license for four months if this is your first offense DUI. There are restricted license options available to you if you have a suspended license but still need to drive to work, go to court, attend DUI meetings, etc.
How a Court-Ordered Suspension Works
Once you are convicted for any DUI charge under California Vehicle Code (CVC) §23152, your license will get suspended as part of the penalties. This is often referred to as a court-ordered suspension, but more accurately, it's "court triggered." The court merely reports your conviction to the DMV, which then proceeds to handle the license suspension on its own.
But there are differences between this court-triggered suspension and the DMV's "administrative" suspension, such as:
Administrative suspension can start within 30 days of arrest, even if you're not convicted. A court-triggered suspension only happens if you're convicted.
You can appeal the administrative suspension in a DMV hearing. There is no way to appeal a court-triggered suspension.
A court-triggered suspension tends to be much longer than an administrative suspension.
The exact length of your court-triggered suspension depends on whether this is your first DUI or a subsequent DUI.
How Long Will My License Be Suspended for a First-Time DUI?
The short answer is six months for a first-time DUI conviction, but California's license suspension rules are complicated. Several factors may affect how long your suspension lasts.
The first is whether you already served an administrative suspension. Administrative suspension for first-time DUI offenders can last up to four months. The amount of time you served administrative suspension will get deducted from the length of your court-triggered suspension. So, if you serve the entire four months, your license is suspended only two more months after your conviction, but the total time suspended is still six months.
A second factor is how much jail time you serve. A first offense DUI normally carries a two-day (48 hour) minimum jail sentence. But this can be waived if you accept a longer license suspension. In effect, you have a choice between:
Six months no driving, plus two days in jail; or
Nine months no driving, but no jail time
Restricted Driving Privileges
You can usually qualify for restricted driving privileges. This lets you drive to and from work and court-ordered programs during your suspension period. You cannot get restricted driving privileges during the first 30 days, the "hard suspension" period. But for most first-time misdemeanor DUIs, you should be able to get restricted privileges during the rest of the six to nine-month suspension.
Note that these are minimum penalties. There are circumstances where you could receive a longer suspension. You should speak to an LA DUI lawyer to know exactly what you face.
How Long Is the License Suspension for Second and Third DUIs?
Repeat DUI offenses carry harsher penalties. The more prior offenses you have, the longer your license suspension will be. For instance:
2nd DUI – Two years suspension
3rd DUI – Three years suspension
4th DUI – Four years suspension, but you may also receive "habitual traffic offender" status and could even have your license revoked permanently
Under California law, all DUI convictions count as prior offenses based on the arrest date within the past ten years.
Other Circumstances that Could Affect Your DUI License Suspension
All the numbers above are minimum penalties, and they all assume you only got convicted of a normal misdemeanor DUI. There are complicating factors that can make a suspension last longer. These include:
If you are under 21 when arrested for DUI, you automatically face at least one year of suspension.
Similarly, if you were already on probation for a previous DUI when arrested for the new DUI, you'll get an extra one-year suspension.
If you refuse the chemical test, you will get an extra one, two, or three years of suspension for first, second, and third offenses.
Felony DUIs and DUIs involving death or serious injury may result in a longer license suspension or even a permanent suspension.
If you need more specific information regarding your unique DUI case, you will need to get in touch with an experienced Los Angeles DUI attorney. These factors generally apply to most cases, but some exceptions and loopholes do exist. The only way to know precisely how long your license will get suspended is by getting legal assistance.
How Does a License Suspension Negatively Impact My Life?
Aside from the obvious impact of not being able to drive anymore, a conviction of a DUI can lead to many problems down the road, such as:
Inability to get accepted to a college or university
Termination from your job or inability to get hired
High insurance premiums
Being ineligible to serve in the armed forces
As you can see, long-lasting repercussions exist when you get convicted and have your license suspended. This is because your conviction and suspension become a part of your permanent record, negatively impacting your life.
Fight Against a License Suspension for a DUI with a DUI Lawyer in Los Angeles
Don't end up with these penalties, especially if this is a second or third-time offense. We believe everyone deserves a second chance, and one mistake shouldn't cost you everything in your life.
Our experienced Los Angeles DUI lawyers can assist you in many ways. With years of experience, we know how to fight for even the toughest of cases. 
Talk to a Los Angeles DUI Attorney for Free
The best way to keep your license is to fight the DUI charge from the start, so don't waste any time getting started. The law isn't on your side, so let us help you during this stressful and challenging time.
Fill out our online contact form or give us a call to schedule an appointment for a free consultation. There is no risk or obligation when you contact us. We are available 24/7.