Get a DUI Attorney Near Me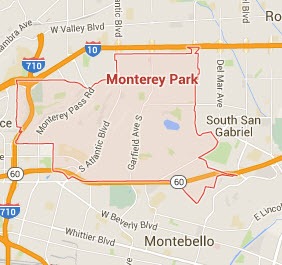 It's not easy to face a DUI charge in Monterey Park, CA. Enforcement is tougher than ever, and DUI penalties now include jail time, a suspended driver's license, mandatory "DUI school" and thousands of dollars in fines. Local courts do not show mercy on DUI charges—you have to defend yourself.
The best defense means speaking to a Monterey Park DUI lawyer. Your DUI lawyer will not just counsel you on how to approach your case. They will make the prosecution's job harder. They do this by challenging key evidence and constructing a defense that works. They may be able to win your case or get the charges dropped. In many cases, a DUI attorney will save you a substantial amount of money.
What to Expect with a Monterey Park DUI
The City of Monterey Park has come down hard on DUI. The reason is no mystery—DUI's are big money. A single first time DUI can cost you almost $16,000 in fines and fees. The city has capitalized on these exorbitant fees by performing week-long crackdowns with multiple DUI checkpoints in a single night.
Fines aren't the only penalties you face. State law sets different penalties for first offense, second offense, and third+ offense DUI's. None of these penalties are lenient. The basic penalties for a first DUI include:
Jail. Every DUI arrest now carries the possibility of jail time in California. Jail sentences for a first offense can be as little as two days or as long as six months. The choice is largely up to the judge.
DUI treatment programs. Some form of DUI school is mandatory for all DUI convictions. For a first offense it will be a three month classroom program that costs you $500. You may be ordered into alcohol treatment or "scare tactic" programs as well.
License suspension. You will lose your license when you are convicted of DUI. A first offense will carry at least four months of license suspension and often longer.
Fines. Fines for DUI have swelled. In addition to the formal fine of $390 (minimum), you will also owe special fees to the court. Altogether these fines and fees add up to at least $1,800. It can be thousands more.
You may also have to put an interlock device in your car, and you will remain on probation for at least three years.
Second, third and subsequent DUI's carry even steeper penalties. You can spend up to a year in jail, or go to prison for more than a year. You will lose your license for a year or more, and spend years in DUI education programs. The fines for repeat DUI's are also higher, and can easily run into the tens of thousands of dollars.
How to Beat a DUI in Monterey Park
Different DUI cases start out in different ways. You may have been arrested by the Police, the Sheriff, or the East Los Angeles office of the State Troopers. You may or may not have been held overnight in the Monterey Park Jail. No matter how your case began, you now face a set of legal challenges. Each of these comes with its own tight deadline, and how you approach them largely determines whether you can beat your DUI charge.
The major deadlines in your case include:
The DMV Hearing. If you want to keep your driver's license you must request a hearing with the DMV within 10 days of your arrest. Otherwise it will be suspended. The police don't always do a good job of warning you of this, but if you miss the deadline you have no second chance. A DUI lawyer can file the request for you so that everything is correct, and they can represent you at the hearing. If you prevail at your hearing you can keep your driving privileges until your trial.
The Arraignment. The arraignment is your first court hearing. It usually happens within two weeks of your arrest. This hearing is where you enter your plea of Guilty or Not Guilty—and where the prosecutor first sizes you up. They are looking to see if you will be an easy victory, or if you are going to put up a tough fight. If you already have a reputable DUI lawyer, they'll know you are serious about your defense, and they may not want to fight every step of the way to convict you. Often, bringing a god lawyer to the arraignment is all it takes to get a much more generous offer from the prosecution.
The Trial. Monterey Park's DUI trials are typically held at the Alhambra Courthouse. From the date of your arrest, you normally have just 45 days until your trial. This is a very short timeline to research a case and put together a defense. If you have a good DUI attorney, however, you may never have to go to trial at all. They may be able to resolve the case in your favor long before the trial date. The earlier you speak to a lawyer, the more they can do for you.
Deciding If You Need a DUI Lawyer
You are not required to have a DUI lawyer to fight your DUI case. It's a decision that each person accused of DUI must make for themselves. The reason people go to a DUI lawyer is to increase their odds of winning their case, or to improve the outcome they get. No lawyer can promise a victory, but they know which tactics work and which ones don't. An experienced DUI attorney can turn around even very difficult cases.
Benefits of having a lawyer include:
Your lawyer can challenge the breath test or blood tests results and potentially get them thrown out.
Your lawyer can challenge the testimony of the arresting officer and expose inconsistencies in their statements.
Your lawyer knows how to drive a hard negotiation with the prosecutor and pressure them for a better deal.
Talk to a Monterey Park DUI Lawyer for Free
You don't have to spend a fortune to speak to a good lawyer. We can out you in touch with a qualified Monterey Park DUI lawyer at no charge. We work only with lawyers who have a proven track record on DUI cases, and every lawyer we work with offers a FREE case evaluation. This is your chance to get professional legal advice on your case and decide for yourself what your next steps are.
Don't wait until it's too late. Fill out the form to the right or call (310) 862-0199 and be matched with your FREE case evaluation today.