It's the situation no one ever wants to happen: a person is killed in a vehicle accident. If the death results from a DUI (driving under the influence), the consequences can be serious for the drunk driver. And there are different ways the State of California handles this type of scenario.
If you were arrested for DUI in California and someone died, there are three different charges you can face. Two of those involve vehicular manslaughter. Here's what you need to know about being charged with vehicular manslaughter for a DUI.
Vehicular Manslaughter vs. Gross Vehicular Manslaughter
Legally, the term manslaughter means you did something illegal that led to a death, but you didn't mean or intend to kill anybody. Manslaughter also assumes you did something careless that put another person's life in danger. This is known as negligence.
If a death is involved in your DUI, you will likely face one of two charges: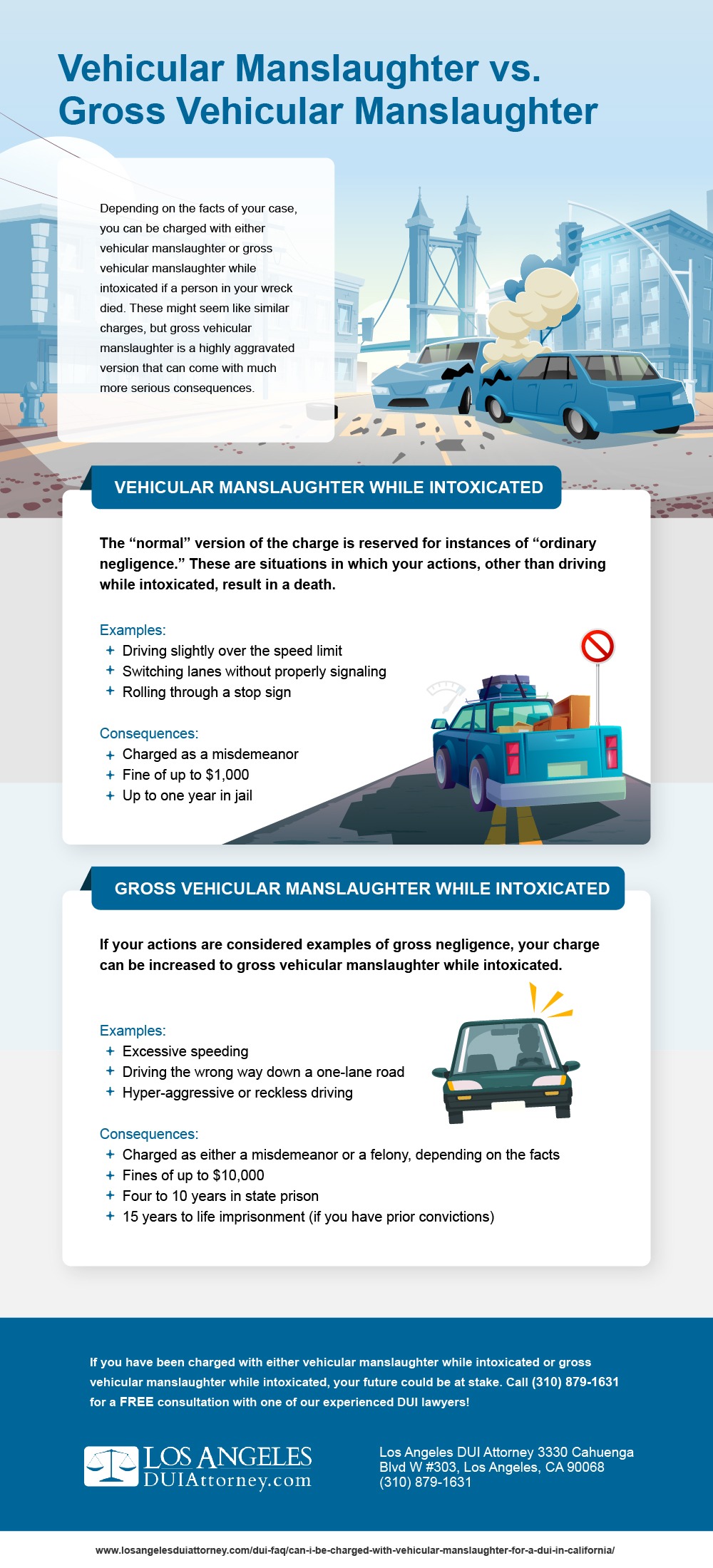 1. Vehicular Manslaughter While Intoxicated
A vehicular manslaughter while intoxicated charge is also known as "normal" vehicular manslaughter while intoxicated. It is less serious than gross vehicular manslaughter, the most common charge you'll face in this situation, and is always considered a misdemeanor.
An example of vehicular manslaughter while intoxicated could be texting and driving. If convicted of vehicular manslaughter while intoxicated, you will face up to a $1000 fine and up to a year in jail along with the other DUI penalties.
2. Gross Vehicular Manslaughter While Intoxicated
Gross vehicular manslaughter while intoxicated can either be charged as a misdemeanor or a felony. (A felony charge is much more serious with higher penalties than a misdemeanor.)
A gross vehicular manslaughter charge assumes you did something particularly reckless—with disregard for safety—that anyone would know could potentially take a life. Examples of this could be driving the wrong way on the road or speeding excessively.
A convicted of gross vehicular manslaughter while intoxicated means fines up to $10,000 and four to 10 years in state prison along with other DUI penalties. If you have two or more previous DUI convictions, prison time is increased to 15 years.
You can be charged with either of these if a death was involved with your DUI. The actions leading to the death are what determines the severity of the charge.
Vehicular Manslaughter vs. DUI Murder
DUI murder is the third and most serious charge someone can face if a death is involved. It's also one of the rarest DUI charges.
Under California law, DUI murder is a second-degree murder charge. DUI murder means the defendant did not intend to kill anyone, but they acted with conscious disregard for someone else's life (also known as implied malice).
You can only be charged with DUI murder if:
The court warned you that any future DUIs could be murder charges OR
You completed DUI school, which would have warned you of the above
The minimum of a DUI murder convicted is 15 years to life in state prison and up to a $10,000 fine.
Vehicular manslaughter charges are far more common if someone dies in a DUI case.
How to Fight a Vehicular Manslaughter DUI Charge in California
It's actually hard for the prosecution to convict you of vehicular manslaughter while intoxicated charge because they have to prove that you did something else (besides driving under the influence) that specifically led to someone's death.
It's even harder to convict someone of gross vehicular manslaughter. To do so, the prosecution must be able to prove that you:
Were driving while under the influence of alcohol or drugs
Committed either an illegal act or a lawful act that might cause death
Performed that act with no malice aforethought, meaning you showed intentional disregard for human life
Exercised gross negligence
And the gross negligence led to someone's death
The prosecution must also show either 1) that the person died because, besides the DUI, you broke a safety or traffic law with gross negligence, OR 2) that your action was not normally unlawful but you did it with gross negligence and the knowledge it could put someone in danger.
If the prosecutor cannot prove everything above, they won't have grounds to convict you of vehicular manslaughter while intoxicated. For that reason, the complexity of this type of case may actually work in your favor.
With a DUI attorney, you can fight the DUI charge. They will help you challenge the prosecution's evidence. It's possible for "normal" or gross vehicular manslaughter while intoxicated charges to end with the DUI attorney negotiating a less-severe charge—or even winning the case completely.
Are you facing a vehicular manslaughter while intoxicated charge in California? We can connect you with a leading local DUI attorney for a FREE consultation. Call us today at 310-896-2724, or complete the form on this page to get started with your free consultation.