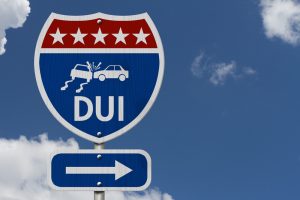 You cannot be charged with driving under the influence (DUI) simply for riding in a car with an intoxicated driver. This is true across the board, even if you were aware that the driver was unsafe to drive. DUI is defined as driving under the influence, and you cannot be convicted if you are not controlling the car. 
However, there are circumstances where a passenger could be charged with either DUI or a related charge. This is rare, and it usually happens in one of three situations:
Police are unsure who was driving, so they charged you even though you were a passenger.
Police believe you helped drive or steer the car while it was moving.
You broke another law, which police discovered during the DUI stop (such as underage drinking).
What Do Police Do if They Are Not Sure Who Was Driving?
This usually happens when a car is either on the side of the road, was in an accident, or was already parked before police arrived. Police then have to decide which of the people at the scene, if any, were driving.
In theory, police are supposed to investigate and determine who was the one behind the wheel. In practice, however, they may get the answer wrong. If you are arrested for DUI, even though you were not the one driving, you can use the no-driving defense. 
Can a Passenger Get a DUI if They Helped Steer the Vehicle?
The law says that anyone in control of a moving vehicle is driving it. That means that you were "driving" even if you momentarily reached out to steady the wheel, even if you did it to prevent an accident. Nothing is illegal about this on its own, but if you are suspected of being intoxicated, it becomes a potential DUI.
Often, police will ask you leading questions. They want to know if you, as an intoxicated passenger, had anything to do with driving the vehicle. Remember that you do not have to answer these questions and can politely decline.
Even if you already told police you touched the wheel, the DUI case against you is weak. You were only driving on a technicality and were not the true driver of the vehicle. A DUI lawyer has a high chance of success in getting the charge dismissed or reduced to something minor.
What Other Offenses Can Passengers Face?
The most common offense we see for intoxicated passengers is with people under 21, who can be charged with underage drinking or underage possession of alcohol. These are not DUI charges, but they can still affect your driver's license, including a potential one-year suspension. 
Passengers can also be charged with public drunkenness, drug possession, and other offenses in some cases.
What Are the Penalties for a DUI Conviction?
The criminal penalties you might expect to face if you are found guilty of drunk driving in California could have a devastating impact on your life. Generally, you can expect to have your driver's license suspended, spend time in jail or prison, be required to participate in an educational DUI program, and be placed on probation. You might also be ordered to pay fines. 
However, the extent of your penalties will be based on your prior offenses. These are some of the more specific consequences of a do you why conviction based on the number of drunk driving charges you have previously been convicted of:
First-time DUIs

– These carry fines and fees not to exceed $16,000, as much as six months in jail, up to five years of probation, and a minimum four-month license suspension.

Second-time DUIs

– A second DUI conviction increases penalties to up to $4,000 in fees, as much as one year in jail, a two-year license suspension, and up to 30 months of drunk driving school.

Third-time DUIs

– When you reach a third DUI conviction, fines and fees can skyrocket to up to $18,000, and you could spend up to 16 months in prison and have your driver's license suspended for up to three years.

Subsequent DUIs

– For fourth and subsequent DUIs, your driver's license could be suspended for up to four years or permanently revoked. You could also be categorized as a convicted felony and be ordered to install an ignition interlock device (IID) in your vehicle.
Meet with a Los Angeles DUI Lawyer for Help Today
Have you been charged with DUI? We can connect you with an experienced Los Angeles DUI lawyer and get you a free consultation. Please fill out our online contact form or call our office to schedule a meeting today.