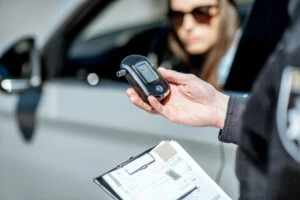 Mouth alcohol is an ambiguous term that often comes up during DUI cases in California. Most drivers who are arrested for driving under the influence must provide a breath sample analysis. If you need assistance with a DUI case, then you should reach out to a Los Angeles DUI lawyer. 
Drivers who are suspected of driving under the influence may provide a breath sample on a preliminary alcohol sensor (PAS) or on a breathalyzer machine. Mouth alcohol may influence the results of breath tests, and this may be asserted as a defense in a DUI case. It is important to understand the details regarding mouth alcohol and breath samples used as evidence.
DUI Defenses and Mouth Alcohol
DUI defenses may be raised under many different circumstances in DUI cases. The defense may claim that a high blood alcohol concentration (BAC) was present due to mouth alcohol which made the results of the test unreliable. But mouth alcohol is only relevant in DUI cases that involve breath samples submitted by the defendant. 
Medical records and dental records may be presented to demonstrate that a physical condition caused the presence of mouth alcohol that influenced the test results. Also, it may be necessary to have expert witnesses hired to explain how mouth alcohol can affect the results of a breathalyzer sample. Sometimes presenting this evidence can cause the prosecutors to submit a plea agreement.
Expert witnesses are typically hired to examine the results of tests and examinations. A mouth alcohol defense will typically require an expert witness who is knowledgeable about how blood alcohol concentration is detectable using breath and bodily fluids. Therefore, speaking to an attorney about how expert witnesses will be used in your case can provide you with a more detailed understanding of this defense.
Mouth Alcohol and Breath Sample Test Results
Law enforcement officers are trained to observe a driver for a certain time period to make sure they do not burp, drink, eat, or do any other actions that may cause alcohol to enter the mouth. The suspect will be instructed to blow into the machine in a forceful manner to make sure that lung air is tested by the machine. Specific circumstances can cause mouth alcohol to complicate the readings performed during a breathalyzer test or preliminary alcohol sensor test.
Arrestees who have had recent dental surgery or cavities may have more mouth alcohol present in their mouth when their breath sample is tested. Medical conditions may also affect the outcome of a breathalyzer sample test. Those who suffer from any type of gastrointestinal reflux condition may have greater amounts of mouth alcohol present when submitting a breathalyzer sample.
Expert witnesses may be hired in your case to examine breath sample test results. Sometimes the machines that produce these results can be flawed or used in an improper manner. An attorney can provide you with more information about how expert witnesses will be used in your case.
The Presence of Mouth Alcohol and Deep Lung Air During Breath Sample Submissions
Breathalyzer submissions and PAS tests are intended to assess the blood alcohol concentration level in an individual's lungs. Air from the lungs is known as alveolar air, and it can provide an accurate measurement of a person's blood alcohol concentration level. The results of these tests can be inaccurate if mouth alcohol is present when the test is administered.
During the majority of cases, the blood alcohol concentration level will be excessively high if mouth alcohol is present when the breath sample is taken by a law enforcement officer. It is necessary to consult with a Los Angeles DUI lawyer to determine how best to scrutinize and challenge these types of test results. If you do not retain legal counsel, you may not know how to procedurally attack inaccurate breath sample test results.
Breath sample submissions may not be reliable for a variety of reasons. Sometimes an attorney will need to have an expert witness examine the breath sample submissions used in a civil lawsuit. You can benefit greatly by having an expert witness participate in your case.
The Benefits of Retaining a DUI Attorney in Los Angeles
Hiring a DUI attorney will enable you to put forth the strongest defense possible in your
DUI case. If your case goes to trial, a DUI attorney can hire expert witnesses to submit reports regarding the evidence used against you and how it should be assessed by the judge or jury. You can also benefit from the privileges which apply to the attorney-client relationship.
For example, the communications you have with your attorney are privileged. This means that the defense lawyers cannot use what you say to your attorney against you. Also, you will benefit from attorney-client work product privilege, which protects the legal impressions and conclusions reached by your attorney to strengthen your case.
Many different factors can make your DUI case stronger. A DUI attorney can help you determine the best way to present the evidence in your case. Also, you will gain more respect from opposing counsel if you have legal counsel on your side.
The Most Common Sources of Mouth Alcohol in DUI Cases
Mouth alcohol may be present in different amounts depending on numerous factors. Every individual who is arrested for DUI needs to make sure that mouth alcohol did not affect the outcome of their breathalyzer test. The following are some of the most common sources of mouth alcohol in DUI cases:
Dentures and retainers that trap liquid in the mouth 
Breath sprays and mouthwashes that contain alcohol
Chewing tobacco
Heartburn and acid reflux
Liquor, wine, and beer
Mouth alcohol may be present without the knowledge of the arrestee or the law enforcement enforcement officer taking the breath sample. It can be necessary to examine an individual's medical history to determine which medical conditions may have caused them to have mouth alcohol present during a blood alcohol concentration test.
Fighting DUI Charges in Los Angeles
Being convicted of a DUI offense can cause you to suffer financial strain, job loss, and the revocation of your driver's license. If you are convicted of a felony DUI, you risk being sentenced to a term of imprisonment which can affect your family members and their livelihoods. The best thing you can do is to fight the charges by using every defensive strategy available to you. 
A Los Angeles DUI lawyer can provide you with exceptional legal representation. By retaining an attorney, the prosecutors in the case may be more willing to offer you a plea deal which can help you avoid a long prison sentence. Also, you need to have any evidence obtained by violating your constitutional rights suppressed so that the state cannot use that evidence to obtain a conviction.
Plea agreements are contractual, and your attorney can negotiate with the prosecutor regarding any plea agreement. The terms and provisions of the plea agreement must be accepted by both sides. Also, if you have an attorney on your side, there is a greater chance that you can present stronger legal arguments to the prosecution.
We Are Here to Help You with Your DUI Defense
It can be intimidating to think about going through a DUI trial. If you are interested in fighting the charges filed against you by the state, then contact us today to schedule a consultation. We can help you determine if mouth alcohol affected the results of a breathalyzer test and what you can do to challenge those incorrect results. 
Prosecutors may attempt to have you enter a plea agreement early on in your DUI case. We can help you assess the costs and benefits of both entering a plea deal and taking your DUI case to trial. You have the authority to decide whether to enter a plea deal, but your DUI attorney will provide you with legal advice that will help you understand the full extent of your legal rights.