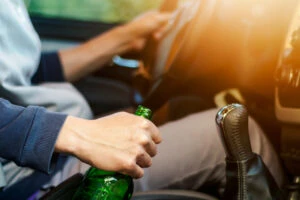 In California and across the United States, driving under the influence (DUI) is a serious offense that poses a considerable threat to public safety and can result in devastating outcomes. Although a first-time DUI conviction is generally classified as a misdemeanor, a common question arises: "Is a second DUI a felony in California?" This blog post intends to thoroughly examine the legal implications and consequences of a second DUI offense in California, enabling you to grasp the seriousness of the matter and the potential impact it may have on your life.
A Second DUI Can Be a Felony in California
In California, a second DUI offense within ten years of the first offense is generally not considered a felony. Instead, it is usually classified as a misdemeanor with increased penalties compared to a first-time DUI conviction. However, under certain circumstances, a second DUI can be elevated to a felony charge. These circumstances include those referenced below.
Causing Injury or Death to Another Person While Driving Under the Influence
If your second DUI offense results in an accident that causes bodily injury or death to another person, the charge may be upgraded to a felony.
Having a Previous Felony DUI Conviction on Your Record
If you already have a felony DUI conviction, any subsequent offenses, including a second DUI, may also be charged as a felony.
While a second DUI is typically considered a misdemeanor in California, it is crucial to remember that the penalties for a second offense are more severe than those for a first-time DUI. Penalties for a second DUI offense can include higher fines, longer jail time, an extended license suspension, longer probation, and mandatory participation in a DUI education program.
It is essential to treat any DUI charge with the seriousness it deserves and seek professional legal assistance if you face a second DUI charge. An experienced DUI attorney can help you navigate the legal process, identify potential defenses, and advocate on your behalf to minimize the impact on your life.
Legal Definitions of DUI Offenses in California
Before diving into the specifics of a second DUI offense, it's essential to understand how California law defines and categorizes DUI offenses. In California, a DUI occurs when a driver operates a motor vehicle with a blood alcohol concentration (BAC) of 0.08% or higher or is under the influence of drugs. DUI charges can be classified as either misdemeanors or felonies, depending on the case's circumstances.
The Difference Between Misdemeanor and Felony DUIs
Understanding the distinction between misdemeanor and felony DUIs is crucial when discussing the legal implications and potential consequences of driving under the influence. Both classifications carry penalties, but the severity of the consequences differs significantly. Here, we will explore the primary differences between misdemeanor and felony DUIs.
The Severity of the Offense
Misdemeanor DUIs are considered less severe than felony DUIs. A misdemeanor DUI typically applies to first-time offenders with no aggravating factors or circumstances. The legal system recognizes that first-time offenders may have made a one-time mistake; therefore, the penalties are less harsh.
In contrast, felony DUIs involve more severe circumstances, such as causing injury or death, having multiple prior offenses, or having a previous felony DUI conviction. These cases indicate a higher risk to public safety and, as a result, carry more substantial penalties.
Penalties and Consequences
Misdemeanor DUI penalties often include fines, probation, driver's license suspension, and participation in an alcohol or drug education program. Jail time is possible, but it is generally shorter than what is associated with a felony DUI. The exact penalties may vary depending on the jurisdiction and specific details of the case.
Felony DUI convictions, on the other hand, involve more severe penalties, including:
Higher fines: Felony DUI fines can be much more substantial than those for misdemeanor DUIs.
Longer jail or prison sentences: Felony DUI convictions can lead to years of imprisonment, whereas misdemeanor DUI jail sentences are typically much shorter.
Longer license suspension or revocation: A felony DUI may result in a longer suspension or even permanent revocation of your driver's license.
Mandatory DUI education programs: While both misdemeanor and felony DUIs may require participation in DUI education programs, the duration and intensity of these programs may be greater for felony convictions.
Additional consequences: Depending on the circumstances, a felony DUI conviction may also involve other consequences such as community service, installation of an ignition interlock device, or restitution to victims.
Impact on Criminal Record
Another key difference between misdemeanor and felony DUIs is their impact on your criminal record. A misdemeanor DUI conviction will appear on your record, but it is generally considered a less severe offense. In some cases, it may even be possible to have the misdemeanor DUI expunged from your record after a certain period and upon meeting specific requirements.
A felony DUI conviction, however, is much more difficult to remove from your criminal record, and it may have more far-reaching consequences. A felony conviction can impact your ability to find employment, secure housing, or obtain certain professional licenses. Furthermore, being a convicted felon may result in losing certain rights, such as voting or possessing firearms.
The Importance of Legal Representation
Securing legal representation when facing a DUI charge is paramount, regardless of whether it is your first or subsequent offense. An experienced DUI attorney brings invaluable knowledge of the legal system, familiarity with local laws and procedures, and a thorough understanding of potential defenses to your case. Navigating the complex web of laws and regulations surrounding DUI cases can be challenging for the uninitiated.
The consequences of inadequate legal representation can be far-reaching, affecting various aspects of your life, such as employment opportunities, personal relationships, and financial stability. A skilled DUI attorney guides you through the legal process and advocates on your behalf, ensuring your rights are protected and that you receive a fair trial. They can meticulously examine the evidence, identify procedural errors or violations of your rights, and challenge the validity of the charges against you.
By employing effective negotiation and litigation strategies, a competent attorney may be able to reduce the charges, minimize the penalties, or even have the case dismissed altogether, depending on the circumstances. This can prove crucial in mitigating the long-term impact a DUI conviction can have on your life. A Los Angeles DUI attorney can help you determine the best next steps.